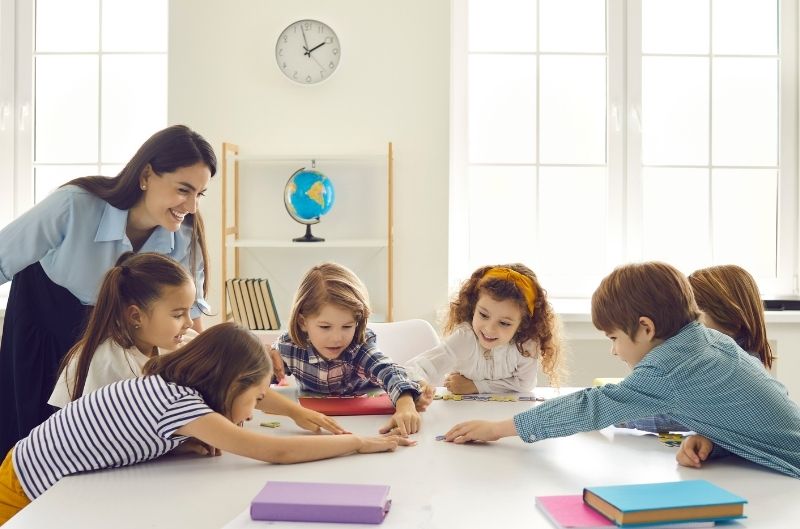 Games to Teach Kids in the Classroom
Author: Austin Stanfel
Every kid loves to play games. And teaching games can help with child development as well. Fun and educational games are essential to keep kids interactive and continue developing their brains. Adding games to your teaching strategies is a great way to strengthen your curriculum. This is also a great way to keep kids motivated and engaged with school. In this article, you'll learn several games to help develop your kids' minds in the classroom.
Introducing Games to Classroom
Create a Plan
Of course, it is essential to strategize beforehand what the game is, how to play it, and how you will demonstrate it to your classroom. Before you design your game, you have to figure out its purpose first. There are three key elements that you should introduce during an educational game. Those elements are intervention, enrichment, and reinforcement. These are all critical components because they help kids focus, compete, and stay motivated.
Play the Game
It's essential to make sure the game works for what you're using it for. Is the game going to achieve the educational value that you want it to? If the plan is set in place and you've played the game yourself successfully, then it's time to see if the game is ready for the classroom.
Determine Its Effectiveness
After you complete a game round in your classroom setting, that means it is time for analysis. A breakdown to determine whether or not your game was successful in the classroom. Did your kids think the game was fun? Did they learn anything during the game?
Why Should You Play Games in the Classroom?
Well, because it's fun! Students want to play games. They're still kids, and games aren't bad. So why not incorporate educational content with games. Students will be more engaged and motivated to learn when there is something fun attached to it.
Now for the critical part. The Games! We've put together a list of the top 5 most common games to play in a classroom setting for educational purposes. Let us know if you end up using one of the games for yourself!
● Jeopardy – A quiz-style game based on the famous show "Jeopardy!"
● Bingo – A fast-thinking single-player game where you match pictures, objects, or words.
● Headbands – This is a teamwork game that requires students to work together.
● Thumb Ball – A fun, questioned-based game that involves everyone.
● Dictionary – is a vocabulary-based game that will help the kids develop their vernacular.
Each of these games has its own set of rules. They also all have different educational values. Some are more tactical than others, some are more entertaining, and others are more educational. Bringing these based educational games into your classroom could genuinely change its atmosphere. And can help your students learn more effortlessly. The morale and motivation in your classroom will rise with fun activities like games. Who doesn't want to learn a game in the classroom?
Read More Articles
How Teachers Can Have Creative Lessons on the Playground
Some of the Best Playground Equipment for Schools for You!