PlayGuard Playground Tiles As Safety Surfacing And Its Applications
PlayGuard tiles are manufactured in the U.S.A. by ECORE International in Lancaster, PA from the highest quality SBR tire rubber mixed with colorful, UV-resistant EPDM granules. This provides high quality rubber with density ideal for playground surfacing and rooftop applications. It is a neat and safe compared to wood and rubber mulch. Playguard is highly versatile in rubber flooring since it offers 24 standard color options, two thicknesses, and indoor-outdoor capability.
PlayGuard playground safety surfacing systems are designed to meet stringent criteria required to earn points under 2 out of 6 categories of the U.S. Green Building Council's LEED® (Leadership in Energy and Environmental Design) rating system. This rating system is utilized as a design guideline and certification tool for architects and designers seeking to develop high-performance, sustainable buildings. Based on these criteria, PlayGuard products can assist architects and designers in obtaining up to 8 points toward LEED certification.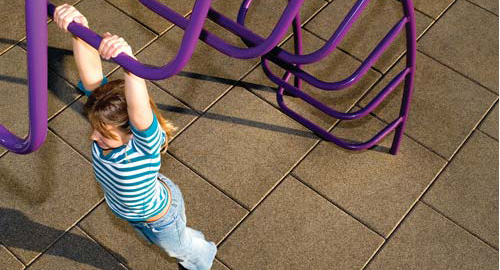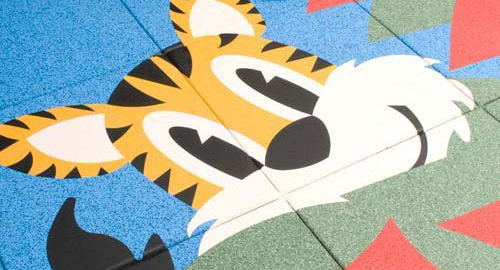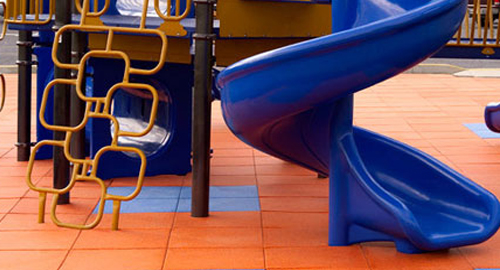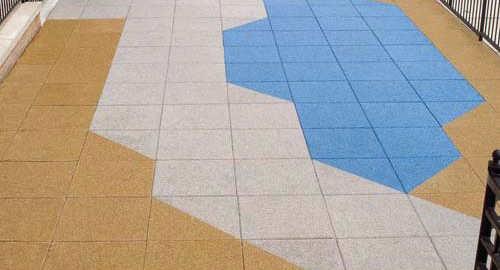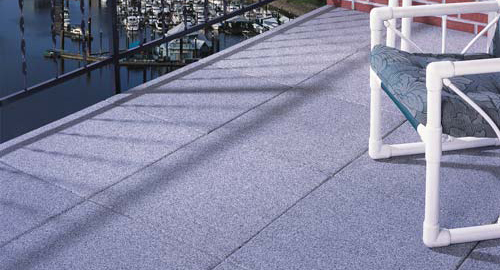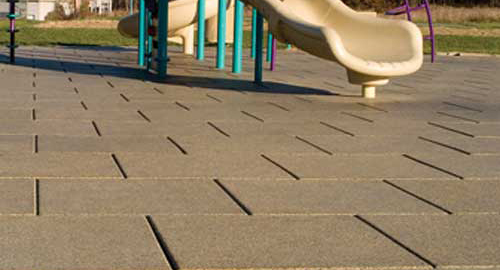 Benefits
Versatile Design &easy coordination Design options &tailored themes LEED benefits Easy to repair/replace tiles. Long-term vibrancy Recognized environmental impact
Features
22 standard colors Custom color/logo Recycled structure Quad Block installs UV resistance LEED contribution
Characteristics
24" x 24" modular tiles in 3 thicknesses choices.Ensures steady fall height protection and even look.Patented colorful wear layer(2-1/2" and 4-1/4")Meets 6' and 8' critical fall height requirements.Slip resistant for wet or dry surfacesWill not shift or displace during playResilient,comfortable surface encourages playMeets ADA standardsExtremely durable for low life-cycle costsUnlikely to conceal sharp or harmful objectsEasy to clean,low-maintenance surfaceIndividual tiles can be removed/replaced if damagedCustom colors,logos and designs available for tiles.Used for rootop,gym,rock climbers & playgrounds.Tiles won't crack,eliminating unsightly surface repairs.Accessories for the tiles.Made from the highest quality recycled rubber.15 year warranty on all products
Children engage in diverse, fun activities – structured and unstructured – that help them to explore. However, their high-impact play must not put them at risk of suffering any harm to their body. Hence, proper safety playground tiles surfacing like PlayGuard are designed to aid great fun and eliminate the risk of tripping or falling, whether in the interior or exterior play areas.
Playgrounds need to be safe for little kids to have a good fun time without fear of stumbling or falling - like the safety surfacing we offer to meet your needs at Creativesystems. For a wide range of indoor and outdoor activities, PlayGuard will support joints and muscles. In addition to safety, it also lessens noise and vibrations in play areas and makes the spaces quieter.
Manufactured by a U.S company in Lancaster, Ecore International, these playground rubber tiles have remained a pacesetter in bringing about safe and more accessible rubber playground surfacing for children of all abilities and ages. It has various fascinating color options to pick from, an easy playground tile installation and maintenance, and an impressive 15-year warranty!
PlayGuard Features
What is more important than being sure that our children are safe on playgrounds and anywhere else? PlayGuard tiles have become a popular choice for playfields. It has consistently helped protect children from getting involved in playground hazards and related accidents, and this is not restricted to children of certain ages or abilities.
Additionally, PlayGuard is certified by FloorScore. FloorScore is a program that two frontier institutions developed, the Resilient Floor Covering Institute (RFCI) and Scientific Certification Systems (SCS). These companies' tests determine how compliant flooring, adhesive products, and production facilities comply with rigorous indoor air quality emission requirements. Flooring products that receive FloorScore certification can be used in high-performance schools.
With a high score on its effectiveness, these affordable playground surfacing has many other features you should know about.
PlayGuard tiles are factory molded to guarantee utmost protection from fall height.
The rubber tiles for the playground meets 2', 6', 8', and 10' requirements for critical fall height per American Society for Testing and Materials (ASTM) F1292-04, is compliant with the Consumer Product Safety Commission (CPSC), and then the accessibility requirements of the Americans with Disabilities Act (ADA).
PlayGuard is designed to stay strong without wearing out for low life-cycle costs.
The superior performing 24" x 24" modular tiles have four thicknesses for cost and impact resistance options.
PlayGuard is made from top-level quality recycled rubber, pre-manufactured colorful Ultra wear layer (1", 2-1/2", and 4-1/4"), and is easy to install.
PlayGuard playground safety surfacing has custom colors, logos, and designs available for PlayGuard Ultra.
The playground is made in the United States and offers 15 -year warranty on all their products.
The Ecore product is slip-resistant for different surfaces and will neither be displaced nor shift during play.
The manufacturing of the tiles involves using UV-resistant EPDM granules with the top-level quality of SBR tiles.
Applications Of PlayGuard
PlayGuard tiles can be applied in different locations for satisfaction. Here are a few:
Kids' play areas and recreation spaces
After-school and daycare centers
Rooftops (2-1/2" only), yards, and patios
School gyms and centers for specialty sports
Gymnastic centers and athletic areas
Restaurant and public entertainment activity locations
Rehabilitation centers
Rock climbing walls
Benefits Of PlayGuard
PlayGuard has many tremendous benefits, including endless color options, an incredible 15-year warranty, incomparable graphics quality, and many more. You probably already know why this should be your playground plug, but here are more benefits you should find out!
PlayGuard assures the complete safety of children while having high-impact play.
Safety is always the most critical part of planning a playground. Ecore International tiles have shown a high level of safety-consciousness for over 15 years of manufacturing PlayGuard to meet 2', 6', 8', and 10' fall height requirements per ASTM F1292-04, compliance with ADA and CPSC. Its 24" x 24" modular tiles are in four thicknesses for impact resistance, and it doesn't wear out for low-life cycle costs.
PlayGuard is an affordable rubber tile for a playground.
PlayGuard is reliable and affordable, mainly because it is made from less costly items such as recycled rubber. The cost of manufacturing it makes it reliably cheap to acquire. This Newbury Commercial Playground Equipment is a perfect match and will save you a whopping $23,529 when you purchase!
PlayGuard offers a wide selection of colors and patterns
The variety of color options that the PlayGuard tiles offer can effectively brighten up a playground without evading the natural environment quality. Once you can imagine it, PlayGuard can create it. Choose various colors that can birth that perfect pattern for your check desired play space.
You can choose from over 20 standard colors to customize an area based on the chosen colors of school or designs that will fascinate the children. The provided color program takes away any limitation on your imagination. So, you can quickly discover any color that is perfect for your projects.
PlayGuard actively promotes a clean and healthier environment.
PlayGuard promotes a healthy and clean environment by cutting landfills and recycling pre and post-consumer wastes into durable PlayGuard playground tiles. Its environmentally friendly sources safely cushion the potential effect of falls to reduce the risk of severe indoor and outdoor injury.
PlayGuard requires low maintenance.
The cost of maintaining a play area is often a bit demanding financially. Still, this rubber tile surfacing option does not require much maintenance and is effortless to clean.
PlayGuard poses no future threat to play areas.
These tiles will not crack. Therefore they are not going to create any ugly future repairs. You can choose from two different levels of protection for a perfect option for your space. It is not going to conceal potentially sharp or unsafe objects after a considerable length of time.
PlayGuard supports a diverse form of creative designs and logos.
You can create lively, fun patterns that use distinctively colored tiles or that make clear and unique statements with custom designs as a method of complement to an overall project theme. You may also want to create a new electrifying play area for your kids, and you'll fall in love with the design features you'll get from the tiles.
Your choice of logos and designs can come in a different blend of Safari Ultra, Carnival Ultra, or custom colors and are made to augment the playground tile's wear layer for durable and bold patterns of energy that do not peel flake or chip. You can create custom designs that are channeled explicitly to your needs and would liven up your space. The logo capabilities of this concept can help to create a personalized playground theme or environment.
PlayGuard can be used for different surfaces.
Aside from being used as playground tiles, PlayGuard can also be used for rooftops, rock climbers, and gyms. No unpleasant repair of surfaces as the tiles will not crack. And since you can apply varying colors and designs of rubber tiles, this would project a high level of aesthetics in an environment.
PlayGuard is durable
With a 15-year warranty, PlayGuard is guaranteed to be an excellent option for investment. And since it is made from recycled rubber tiles, it is a versatile option to be considered at playgrounds, gyms, restaurants, rehabilitation centers, and even rooftops for decades of assured safety.
PlayGuard makes the playgrounds quieter.
Applying these playground rubber tiles on play fields, walls, and rooftops will help lessen vibrations and noise in play areas, making them quieter for a more enjoyable experience.
PlayGuard is easy to repair and replace
As a result of the high-impact play of kids, whether on playground equipment or tiles, children can cause damage to the surfacing. For whatever reason, if a part of the surface gets dented, you can quickly correct them by replacing or repairing the tile in that area. Those bold designs will therefore give you a longer enjoy using them.
In conclusion, every playground must offer safety from trips and falls, so PlayGuard tiles were designed. As one of the very few products submitted to go through the rigorous process of becoming IPEMA-certified, it can be proudly presented as a high-quality playground safety tile anyone should consider. PlayGuard safety surfacing tiles meet ADA accessibility requirements, the ASTM F1292 standard specification for impact attenuation for falls, and the United States' CPSC guidelines.
PlayGuard
PlayGuard tiles are a popular choice for playgrounds. Tiles are rubber flooring meant to offer a high level of protection for both interior and exterior play areas. You can choose various colors to make the perfect pattern for your play space. There are over 20 standard colors to choose from, allowing you to customize the area based on your school colors or bright designs that will appeal to the children. The tiles are created using only the highest quality of SBR tiles that are mixed with UV-resistant EPDM granules. There are also two different levels of thickness that you can choose from to get the perfect level of protection for your space.
There are plenty of benefits to choosing this option. One advantage is the versatile design options that allow you to truly customize the space. Whether you want to create a fun space that matches the current design of your area or you want to create a new exciting place for the children, you are going to love the fantastic design features the tiles offer. You can even create things that are explicitly tailored to your needs. This is a stylish choice that will bring new life to your space.
While this option has style, you may be looking for something with function, as well. Fortunately, you get both with tiles. One of the most important things aside from safety that you need to consider when choosing safety surfacing is its durability. Children can wreak havoc on surfacing because they play hard. Should something happen, these tiles are easy to replace and repair. You can also enjoy long-term vibrancy from these bold colors. This makes them an excellent investment in any play area.
If you want an option that will make your playground both safe and stylish, the PlayGuard tiles can be an excellent choice to consider. You don't have to sacrifice style or function, and you get an environmentally responsible alternative to keep your playground safe. This is a versatile option that can be used in gyms, playgrounds, and even on rooftops to ensure that the area is safe for all children who visit. Take comfort in knowing that you are choosing a reliable and versatile option that is made from recycled rubber and has an extended warranty.