PlayGuard
PlayGuard tiles are manufactured in the U.S.A. by ECORE International in Lancaster, PA from the highest quality SBR tire rubber mixed with colorful, UV-resistant EPDM granules. This provides high quality rubber with density ideal for playground surfacing and rooftop applications. It is a neat and safe compared to wood and rubber mulch. Playguard is highly versatile in rubber flooring since it offers 24 standard color options, two thicknesses, and indoor-outdoor capability.
PlayGuard playground safety surfacing systems are designed to meet stringent criteria required to earn points under 2 out of 6 categories of the U.S. Green Building Council's LEED® (Leadership in Energy and Environmental Design) rating system. This rating system is utilized as a design guideline and certification tool for architects and designers seeking to develop high-performance, sustainable buildings. Based on these criteria, PlayGuard products can assist architects and designers in obtaining up to 8 points toward LEED certification.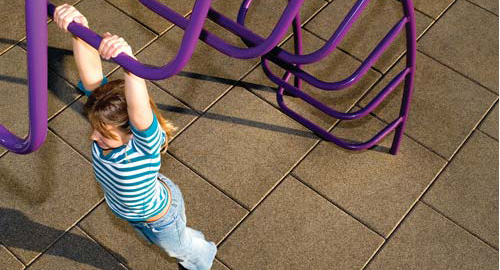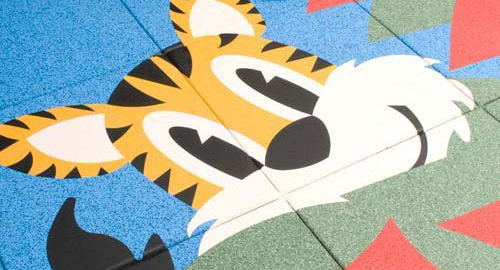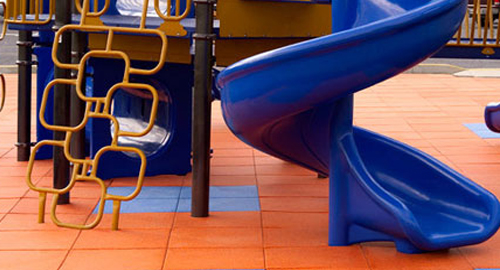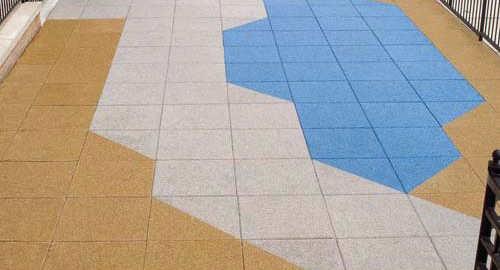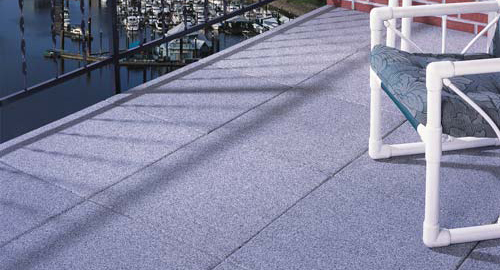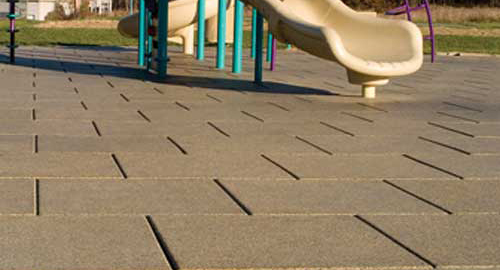 Benefits
Versatile Design &easy coordination Design options &tailored themes LEED benefits Easy to repair/replace tiles. Long-term vibrancy Recognized environmental impact
Features
22 standard colors Custom color/logo Recycled structure Quad Block installs UV resistance LEED contribution
Characteristics
24" x 24" modular tiles in 3 thicknesses choices.Ensures steady fall height protection and even look.Patented colorful wear layer(2-1/2" and 4-1/4")Meets 6' and 8' critical fall height requirements.Slip resistant for wet or dry surfacesWill not shift or displace during playResilient, comfortable surface encourages playMeets ADA standardsExtremely durable for low life-cycle costsUnlikely to conceal sharp or harmful objectsEasy to clean, low-maintenance surfaceIndividual tiles can be removed/replaced if damagedCustom colors, logos and designs available for tiles.Used for rootop, gym, rock climbers & playgrounds.Tiles won't crack, eliminating unsightly surface repairs.Accessories for the tiles.Made from the highest quality recycled rubber.15 year warranty on all products
PlayGuard tiles are a popular choice for playgrounds. Tiles are rubber flooring meant to offer a high level of protection for both interior and exterior play areas. You can choose various colors to make the perfect pattern for your play space. There are over 20 standard colors to choose from, allowing you to customize the area based on your school colors or bright designs that will appeal to the children. The tiles are created using only the highest quality of SBR tiles that are mixed with UV-resistant EPDM granules. There are also two different levels of thickness that you can choose from to get the perfect level of protection for your space.
There are plenty of benefits to choosing this option. One advantage is the versatile design options that allow you to truly customize the space. Whether you want to create a fun space that matches the current design of your area or you want to create a new exciting place for the children, you are going to love the fantastic design features the tiles offer. You can even create things that are explicitly tailored to your needs. This is a stylish choice that will bring new life to your space.
While this option has style, you may be looking for something with function, as well. Fortunately, you get both with tiles. One of the most important things aside from safety that you need to consider when choosing safety surfacing is its durability. Children can wreak havoc on surfacing because they play hard. Should something happen, these tiles are easy to replace and repair. You can also enjoy long-term vibrancy from these bold colors. This makes them an excellent investment in any play area.
If you want an option that will make your playground both safe and stylish, the PlayGuard tiles can be an excellent choice to consider. You don't have to sacrifice style or function, and you get an environmentally responsible alternative to keep your playground safe. This is a versatile option that can be used in gyms, playgrounds, and even on rooftops to ensure that the area is safe for all children who visit. Take comfort in knowing that you are choosing a reliable and versatile option that is made from recycled rubber and has an extended warranty.