Our Engineered Wood Fiber Offers the Best wood fiber for Your Play spaces!
Video Featuring: Austin Stanfel
Wood products for playgrounds providing ease of installation, attention to safety standards, and consistent quality assurance that only the finest materials will protect your playground for years to come.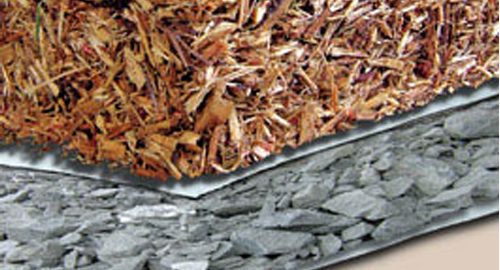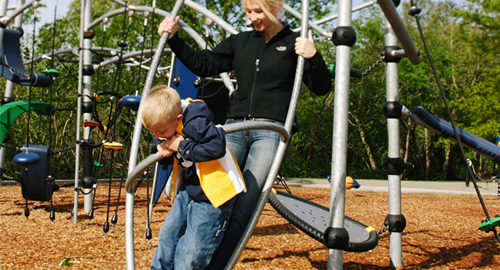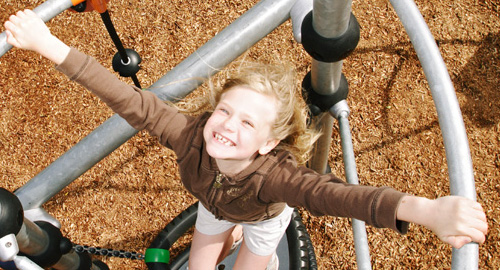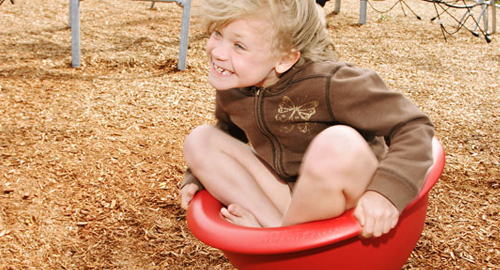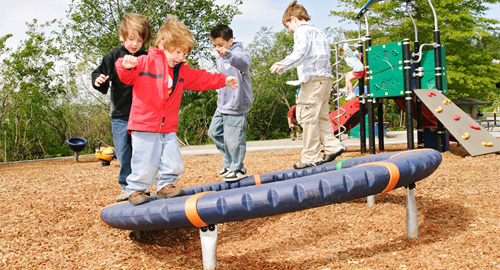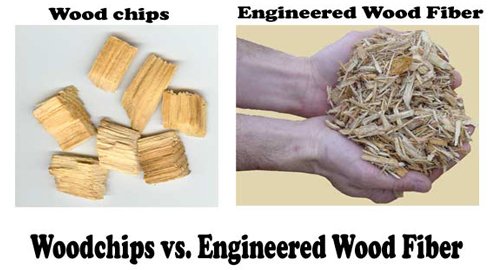 Characteristics
Playground surfacing is affordable and resilient.
Certified by IPEMA per F1292 and F2075 .
Soil, Sand or Asphalt (requires 12" WC & WC Mats)
Wood fiber has high absorbing qualities.
Provides firmess and slip resisitance.
Benefits
Ideally used for public playgrounds.
Used under swings, at the exit and entrance to slides.
Other high traffic areas of your playground.
Allows for wheelchairs and strollers to traverse across it.
Less expensive than use of sand and pea gravel.
Used For
Low Cost, Simple Installation, High Fall Height
Low Cost, Simple Installation, High Fall Height
No need to remove existing wood fiber.
Easy to install with the anchoring system. Made up of PVC
Meets ASTM F1292 for 15 years.
Provides ADA Compliant.
At Creative Recreational Systems Inc, we produce and supply engineered wood fiber surfacing –one of the best wood fiber surfacing materials. Our wood fiber insulation is expertly made to provide safe and biodegradable surfaces for outdoor play areas. These components make for adequate and safe flooring for your playground and playroom needs.
Our engineered wood fiber surfacing solution is the perfect choice for play spaces.
Our engineered wood fiber mulch is necessary to give that added assurance of safety to your playgrounds. Ever since we launched this wood fiber category, we have provided playground owners, parents, and school administrators with the best satisfaction for their flooring needs.
Wood fiber: The Perfect choice for flooring play spaces
Wood fiber chips are a popular choice for playgrounds. Chips are wood fiber surfacing meant to offer a high level of protection for both interior and exterior play areas. There are also varying levels of thickness that you can choose from to get the perfect level of protection for your space.
Wood fiber has been used in playgrounds for a long time, making them a traditional option for playgrounds. However, today's wood fiber safety surfacing is not the same as the ones used in the past. One reason wood fiber is such a popular option is because of how affordable it is. Not only is it far less expensive than many other options available, but it is also a highly resilient choice.
Why do you need our wood fiber in your play spaces?
If you've witnessed the rough play that goes on in many playgrounds, parks, and other play spaces, you must also be aware of the need for a safe ground for kids and other joy seekers to land on. One primary reason we need them is based on the fact that they are an essential safety precaution to prevent severe injuries from falls, which are often unavoidable. Even then, there are other benefits to having one's play spaces floored with our playground wood chip surfacing. Some of them include:
Safety
Wood fiber is a great surface, especially throughout any high traffic areas and under swings and slides. If you are looking for a great safety surface that will hold up to the high activity level of children, wood fiber is one of the best choices that you can get.
Several studies show that wood chips are the most suitable surfaces for preventing surface injuries. Additionally, they have less sensitivity to extreme temperatures like heat or cold. As a result, they can protect your kids during the heat of summer as well as the cold of winter.
Stress-Free Maintenance
Wood fiber playground surfaces are effective at repelling dirt. They are simply maintained through regular care. When compared to other alternatives, we can see that playground wood chips have less spending for long-term maintenance. There is no other material that is as easy or safe to maintain.
To ensure that the wood chips maintain sufficient depth and absorbency, you should perform regular playground wood chip replacements. Even with occasional top-ups, playground wood chips continue to remain the most cost-effective option.
They are aesthetically appealing.
When you use playground wood chips instead of asphalt, rubber, or gravel, your playground will look like a playground, not a factory yard. It is an organic visual landscape for both you and your children and enriches the childhood experience.
Engineered wood fiber playground surfaces are very tough. Our wood chip surfaces can withstand both extremes in ground movements and temperature.
Our wood chip surfaces absorb a lot of noise.
The sound-absorbent state of wood fiber surfacing reduces the issue of noise. Wood chips have a unique crunch of their own that reduces noise rather than increasing them.
In areas where schools are in the middle of a neighborhood where people are sleeping or working over the course of the day, the sounds of young children at play have to be reduced. The sound of children playing isn't entirely eliminated, but it is lowered considerably.
They are designed with children in mind.
Playgrounds are an irreplaceable part of any childhood experience. Whether it is at school or the park, playgrounds are places where kids of all ages can let their imagination run free. Since imaginative adventures can also include potentially dangerous ones, as a playground administrator, it's critical to ensure that playgrounds are fun and safe. Don't hesitate to use us as your accredited suppliers and installers of your playground wood chips.
Our wood chips hold water effectively and encourage healthy soil
In a 1990 study that compared 15 different organic mulches, wood chips were one of the best for holding moisture, controlling weeds, moderating soil temperatures, and overall sustainability. Wood chips tend to absorb more water than many other mulches. This water then both cools the soil and is slowly released to plants.
Our flooring options consist of chips and engineered wood fiber. Our wood fiber playground paving offers an excellent choice for playgrounds. Engineered wood fiber is easily customized to meet the design of any environment; it meets 6' and 8' critical fall height requirements and offers a non-slip surface that significantly reduces the risk of injury to your kids.
There are many characteristics of our production standards and process that reveal the extent of love and expertise we place in manufacturing our products. Many types of woodchip products look pretty similar, but they may not provide the same protection.
Our engineered wood fiber is the recommended wood chip product for use as playground cover. Besides its high shock absorbency, engineered wood fiber has more beneficial features than other wood chips.
Wood fiber surfacing is a resilient playground flooring type, and in there lies its most obvious advantages.
One can safely attest that our wood fiber surfacing occupies a niche in the flooring market. This means there are fewer affordable manufacturers and dealers, and fewer quality options than other primary flooring materials. Wood fiber surfacing also has more occasional uses in the typical home. As impressive as it is for activity areas, our wood fiber surfacing can be improvised to give it the right look and feel for any outdoor playground, whatever the playground theme might be.
It's also worth noting that eventually, roof chips decompose and will have to be regularly replaced yearly, depending on the climate.
Installation of engineered wood chip surfaces
Wood fiber is one of the easiest to install flooring. They can be installed via truck and leaf blowers. Wood chips are easily gathered with a rake.
Our wood fiber surfacing is highly resistant to damage from moisture on both the top and bottom surfaces of the material. Children often tumble off playground equipment and hurt themselves simply from the force of impact on the ground. For this reason, playground areas require shock-absorbing material. There is an apparent reason why the most preferred absorbent materials placed beneath and around playground facilities are playground wood chips.
If you intend on using wood fiber surfacing in these areas, our products are a better choice.
Upon purchasing our products, keep in mind that our coarse wood fiber surfacing can withstand very high temperatures for very long periods, creating systems that give over 75 minutes of fire protection even from temperatures approaching 1000 degrees celsius.
However, in wet conditions, it absorbs water which makes it nigh impossible to catch flame.
In situations where they do catch fire after being exposed to sufficient heat, they produce smoke and toxic gases like cyanide. It is best to keep any flames or inflammable items away from the engineered wood chips.
So what's stopping you? Contact us for a free quote today!
Wood Fiber
Growing up, chances are you spent a lot of time on a playground with wood chips underneath the playset. This is a traditional option, but today's wood fiber safety surfacing is not the same as the ones in the past. One reason wood fiber is such a popular option is because of how affordable it is. It is far less expensive than many other options available, but it is also a highly resilient choice.
You will notice about 3/4 of the playgrounds use wood fiber as their safety surfacing. It is slip-resistant and can absorb a high amount of impact. As long as it is properly installed, it can be an excellent option for accessibility, as well. On a limited budget, you can meet the guidelines for accessibility without spending too much. This means that you can easily travel over this surface with a stroller or wheelchair. If there's already wood fiber in your area, you can add new wood fiber over it without removing the existing surfacing. If it's being installed for the first time in an area, it is easily fixed with a PVC anchoring system.
There are also plenty of benefits from choosing this option. One significant advantage is the fact that wood fiber is incredibly affordable when compared to other types of safety surfacing. This is one reason why you will commonly find wood fiber in many public playgrounds. Wood fiber is a great surface, especially throughout any high traffic areas, as well as under swings and slides. If you are looking for a great safety surface that will hold up to the high activity level of children, wood fiber is one of the best choices that you can get.
Durable and affordable, wood fiber could be precisely what you need for your playground. It meets all of the safety guidelines that are required by law and is a durable choice that can hold up to the activity of many children. Plus, since you don't have to replace it entirely, you can save money when you refresh the wood fiber. Wood fiber allows people to be completely safe when they visit your playground.