As a leader in the industry, we are committed to providing all your needs for a recreational space. We want to provide a
turnkey service from the platform to the attenuating surface. We carry the most
popular safety surfaces and have the widest selection across the market.
Types Of Surfaces
Poured in Place Rubber (PIP)
PIP Rubber Systems offer one of the best surfaces for ADA accessibility and longevity.
Standard PIP Installations include Ultimate Protection inserts under swing bays and slide exits for increased wear protection in high traffic areas.
Wear course is comprised of Standard EPDM (Ethylene Propylene Diene Monomer) rubber granules or chose to upgrade to TPV (Thermoplastic Vulcanizates) granules in 2 available sizes.
A wide range of colors allows you to add an element of graphic fun to the playground by creating inlaid shapes and themed designs.
PIP can be designed with dimension for added play value and physical activity.
Urethane can also be upgraded for more flexibility and UV protection.
Cushion layer thickness is customized on site to meet your play equipment's unique and varying fall heights, saving you money.
Poured rubber options for aquatic spaces also available.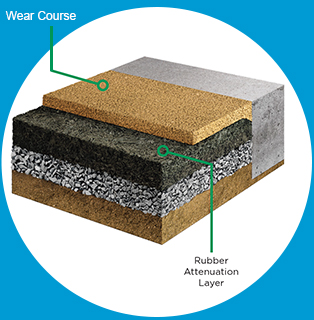 Granule Size
Material
Top Coating
Standard PIP with Ultimate
Protection Inserts
1–4mm
EPDM / Optional
TPV Upgrade
Aromatic
Ultimate PIP
0.5–1.5mm
TPV
Aliphatic*
*Aliphatic coating is strongly recommended for some colors. See back page for details.
Recycled Bonded Rubber
Bonded Rubber is an attractive, seamless surface that uses clean, 100% recycled shredded rubber tires.
Installed and troweled by hand to provide a resilient, seam less appearance.
This single layer system is comprised of wire free, cleaned pigmented recycled rubber and a polyurethane binder.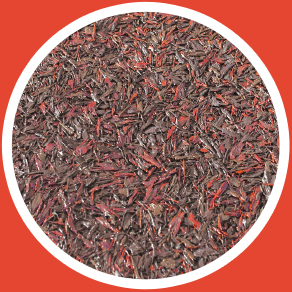 Loose Fill Surfacing
Meets minimum ASTM standards when properly maintained. Accessories to aid in drainage and weed control also available along with recommended wear mats for displacement protection.
Loose Fill Rubber
System comprised of rubber chunks comprised of 100% recycled tire rubber
Clean, wire-free, non-toxic, and does not leach into ground water.
Engineered Wood Fiber (EWF)
Manufactured softwoods and/or hardwoods that average 1"– 2" in length and contain a maximum of 15% fine particles to aid in compaction.
Non-toxic and does not contain paint, chemicals, or additives.
| | Maintenance | Longevity | Design | Accessibility | Price |
| --- | --- | --- | --- | --- | --- |
| PIP | | | | | |
| Recycled Bonded Rubber | | | | | |
| Synthetic Turf | | | | | |
| Tile | | | | | |
| Loose Fill Rubber | | | | | |
| EWF | | | | | |
Maintenance services also available—ask your area representative how to protect your investment with
skilled preventative maintenance and repairs.