Koolfog | Components:
In order to build our industrial quality outdoor heating, cooling and fog effects systems Koolfog engineers and designs custom solutions from our palate of high-quality industrial grade components.
Here is an overview of the some of the components that we might use to design a custom solution for residential, commercial, municipal or industrial systems.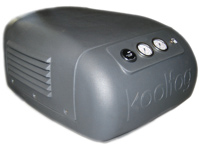 Pumps
The heart of any outdoor cooling, humidification or fog effects system is the pump. Pump selection and design is likely the most important component of a system. Koolfog offers a variety of custom designed pumps featuring unique features such as low-noise and often in a unibody design providing UV protection and rust-free operation. All of our pump models are supplied with external monitoring and diagnostics.
Nozzles
Koolfog is an innovator when it comes to designing systems for outdoor cooling, humidification and fog effects. We've designed and engineered our own line of nozzles including stringent manufactured misting nozzles with an anti-drip design, fog nozzles available for a number of desirable effects and high-volume evaporative nozzles for application where rapid water evaporation is desired.
Air Movement
Many applications require the use of misting fans or other air movement solutions such as permanent commercial or industrial applications or in portable situations such as outdoor concerts and events. Our misting fans and air movement solutions are engineered for quality, durability and output. That's why Koolfog air movement systems are used by more theme parks and resorts where heavy daily use demand trouble and maintenance free systems. Look the next time you visit your local theme park. Even better, Koolfog fans offer superior throw and spread and provide more cooling power compared to our competitors.
Atomization Line
Key to all evaporative cooling systems including fog effects and misting is maintaining high pressure pure water flow. Koolfog utilizes its own atomization line featuring an all stainless steel construction which is subject to exhaustive inspection and testing prior to installation.
Distribution
The key to a well designed outdoor cooling, humidification or fog effects system is moving water from the pump to the misting or fog zones. Koolfog Outdoor Cooling Consultants will design a custom system for each individual application. Working from a wide range of components that network the water from pump to misting or fog zone, we will use a range of industrial quality distribution components including distribution line, fittings, zone controls and distribution hubs.
Filtration
All Koolfog Outdoor Cooling and Fog Effects systems are fitted with a standard sediment and scale inhibiting filtration system designed to ensure proper water flow and pressure -- all adhering to the specifications of the Koolfog pump specified for the applications. We fit our filtration systems based on an H20 analysis of our customer's water supply. In many cases, additional filtration or conditioning may be supplied.
Controls
Because conservation is extremely important in our outdoor cooling, humidification and fog effects systems, Koolfog has developed an Open System Interface™ (OSI) which makes our systems easily integrated into existing residential, commercial and industrial control systems including temperature, humidity, time-based controls or other "outside" controls. Koolfog Systems can be fitted with a variable frequency drive for sophisticated zone control. Our systems can also be easily configured to work in conjunction with lighting controls for dynamic and exciting visual effects in both residential and commercial designs.