How Americans Spend Halloween?
October 30, 2017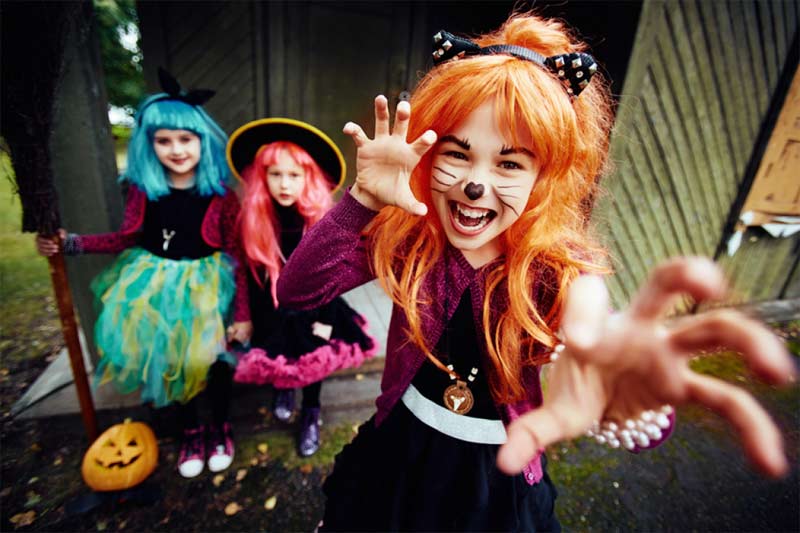 Halloween is one of the most exciting times of the year and everyone, from young to old await this day. There are some myths and facts about this day that makes it even more interesting, and one of them is spirit of dispelling evil. However, the essence of this day is some child-friendly activities such as dressing in interesting costumes, carving a pumpkin into jack-o'-lantern, and tricking-and-treating. How have Americans been celebrating this day since the past few decades and making it interesting? Let's have a look!
Trick-and-Treat
Millions of kids all over the country have been enjoying tricking and treating, no matter what the age. In the year 2016, more than a hundred million stops were made for this purpose, and another half a million were made in such a way that people had to climb to grab candies. When it came to trusting neighbors, 78.7% American population gave a positive response; however, only 17% of them showed a feeling of distrust towards them.
Delights
Candies and delights enhance the fun of this day. Chocolate products are the most manufactured products because they are loved by young and adults alike. Approximately, 39,815 people employed by U.S. manufacturing establishments produced chocolate and cocoa products in 2015. The value of shipment of this industry was 16 billion in 2014 that increased up to 17.2 billion in the year 2015. However, the non-chocolate confectionery products are also made in large amounts to celebrate this day. According to the reports of 2015, 3,280 U.S. confectionary and nut stores were present to sell candies and other confectionery products, and 23,243 people were employed in manufacturing and selling of these items.
Dressing
Costumes make all the fun! Different people dress in different ways on this day and all are a hell of a fun to wear. The report of 2015 shows Americans love to disguise in registered nurses and more than two-million population dressed up in that way. What is more, a huge population liked to dress up as physicians/surgeons and around 715,361 people obtained that attire. However, a large population also showed interest in dressing up as police/sheriff petrol and 662,619 adopted this attire. Furthermore, disguising as Bailiffs, correctional officers and jailers also seemed like fun as 376,460 did that in the same year. Also, people liked to be firefighters, too, and 254,678 dressed up this way. However, the remaining population dressed up in different ways such as athletes/coaches/umpire, farmers/agricultural managers, and dentists. The numbers of people were 109,943, 478,065, and 95,713, respectively.
Interesting Places in the Country
Some places that will turn on your Halloween mood are Tombstone, Ariz, Sleepy Hollow, N.Y., Kill Devil Hills, N.C., Yellville, Ark., Transylvania County, N.C., Slaughter Beach, Del., Casper, Wyo., Scarville, Iowa, and Truth or Consequences, N.M. The estimated population of these places is 1,300, 10,198, 7,121, 1,171, 33,482, 233, 59,324, 71, and 6,023, respectively.
However, you may also spend quality time at a theatre watching a horror movie. California (497), Texas (330), New York (258) and Florida (199) had the most of such establishments so you may visit any of these places for a horror fun. There were a total of 213 drive-in motion picture theaters in 2015, out of which, Ohio had 21, California had 18 and Pennsylvania had 19. Furthermore, you may also visit a theme park for some frightening fun as the U.S. government has spent $1.93 billion for this purpose in the year 2016.
Some Added Fun
More fun can be added to the Halloween vacation through the ever-famous pumpkin carving and decoration. The value of imports of the pumpkin carving in the year 2016 was $12.4 billion. A huge amount has been spent on costume establishment as 1,026 formal wear and costume rental establishments were made in the United States in the year 2015. This industry hired 6,504 paid employees from all over the country. Moreover, for giving a more authentic witch and vampire attire, 302 broom, brush, and mop, and casket manufacturing establishments were made. Together, these two industries employed 12,627 people and had a total value of shipments of $3.6 billion in 2012.
What is more, Apple is the preferred choice of people in Halloween. Whether dipping in caramel or bobbing, apples can be a hell of a fun. Therefore, the U.S. government exported $935.5 million apples in 2016.
In a Nutshell
Halloween is the most exciting holiday for Americans and the statistical reports of the past few years confirm this fact. The Americans try different ways such as dressing in an interesting way or tricking and treating to fill this holiday with as much fun as possible. The statistical reports show a massive inclination and interest to spend this holiday as the American government spent a huge budget for different things to make the celebration worthwhile.