Keep Your Play Area Safe...by pouring your SofSURFACE in place!
Poured-in-Place Safety Surfacing offers creative play areas with limitless possibilities on design - from embedding shapes to following curves effortlessly and with the added flexibility of being any thickness.
When the surface you wish to add fall protection to has a unique shape, contour or thickness, SofCRETE becomes the solution. SofCRETE pours in place effortlessly, conforming around posts and squeezing into tight corners to create a beautiful, seamless, one-piece protective surface.
Ideally suited for playground safety surfaces and creative play areas, SofCRETE keeps these areas clean and dry, free from weeds and buried debris, all the while offering users protection from falls.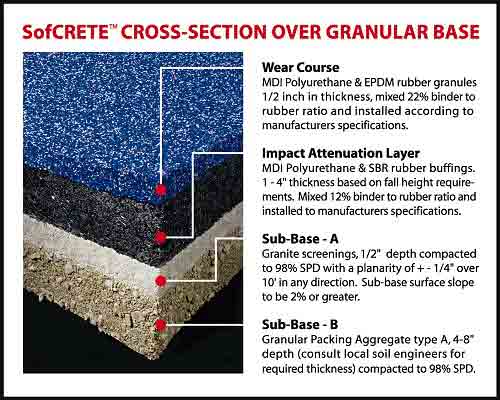 In addition to the safety features, SofCRETE offers the advantage of customizing the design of your surface, allowing designs of virtually any shape and/or color to be embedded into your SofSURFACE.
Playful designs or playground games can become a permanent colorful playsurface. Choose from our selection of standard games or uniquely design your own.
What separates SofCRETE from many other cast-in-place suppliers? In a word, SofCRETE CONFORMS. It conforms to your..
Aesthetic requirements. We have a wide selection of colors and blends in stock.
Design requirements. Incorporate any logo or pattern to match any theme.
Site requirements. Curved edges? Rolling substrate? Odd shaped areas? SofCRETE conforms.
Usage requirements. Custom formulations are available for high abrasion areas (golf spikes, water parks, etc.).
Legislative requirements. SofCRETE is designed to meet all current ASTM, CRSC, ADA and CSA requirements.
As well, it is wheelchair accessible and meets ADA accessibility requirements.
Our expert design and engineering services are available to assure you of a playground surface that not only meets all applicable safety regulations, but also meets with your satisfaction. You have our guarantee that all aspects of the job are met from start to finish and your customized soft surface will last for years to come.
SofCRETE® Critical Drop Height Ratings
| | |
| --- | --- |
| Thickness | Critical Fall Height Rating (ft) |
| 1.5" | 3.0 |
| 2.0" | 4.0 |
| 2.5" | 5.0 |
| 3.0" | 6.0 |
| 4.0" | 8.0 |
SofCRETE Colors

Black

Green

Blue

Brown

Grey

Terra Cotta

Beige