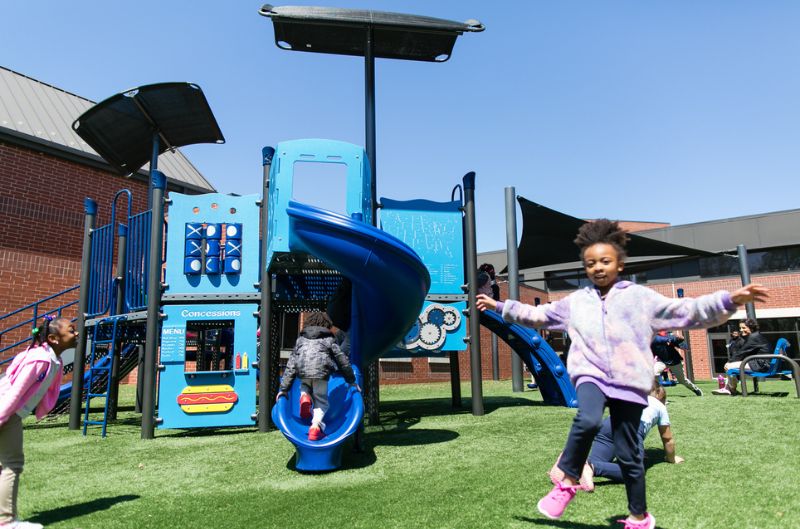 Top Playground Equipment Names And Terms To Raise Your Knowledge
Author: Austin Stanfel
Kids have the opportunity to play on playgrounds of diverse kinds and sizes. Kids might be captivated by the vibrant hues and interesting designs of a wonderful playground in ways they can only find there, allowing them the chance to let their imaginations run wild. Although playgrounds have developed over time to include more safety and accessibility elements, all kid-approved play areas still include a lot of the same features.
Increasing your knowledge of playground equipment names is a crucial first step in learning what makes a great playground and what to watch out for when selecting a new site.
Read the entire article or skip to a certain part:
Names of Playground Equipment
Current List of Playground Equipment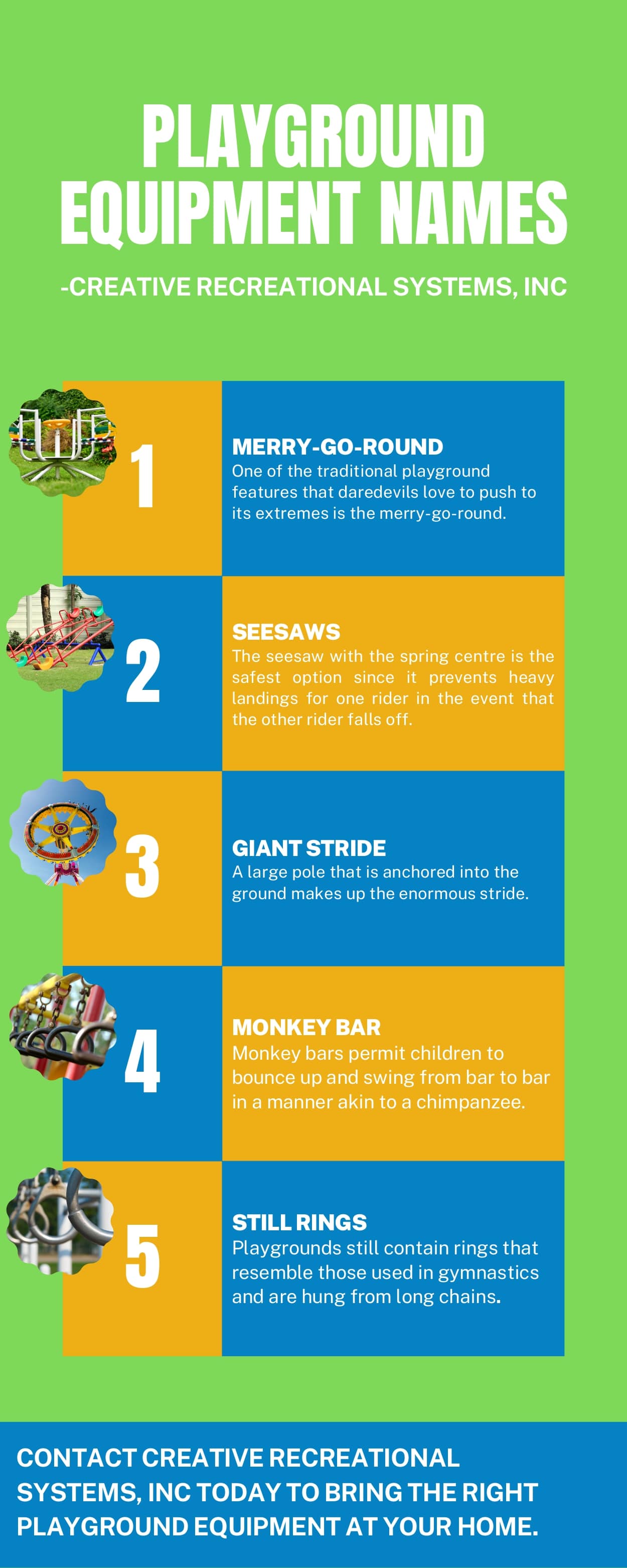 Names Of Playground Equipment
If you haven't gone to the playground in a while, you'll likely notice that some of your old favorites have had their names or visuals changed to better suit contemporary needs.
Some playground equipment has become obsolete due to new safety regulations, or the term has changed. Due to its complete incompatibility with current safety regulations, some playground equipment types have been withdrawn. The installation of some well-known playground equipment on newer locations is still permitted despite the fact that safety regulations have altered.
Merry-Go-Round
One of the traditional playground features that daredevils love to push to its extremes is the merry-go-round, often known as a roundabout or a carousel. By pressing against the ground to create momentum, youngsters can get on these big pieces of equipment and spin around as quickly as they can. The word "merry-go-round" is no longer required to describe all of the different varieties of spinning playground equipment, despite the fact that this kind of apparatus is still rather prevalent.
The United States Consumer Product Safety Commission's (CPSC) Handbook for Playground Safety specifies certain requirements that merry-go-rounds and other playground favorites like seesaws, swings, and slides must adhere to.
Seesaws
Seesaws, commonly referred to as teeter-totters, are well-known equipment on the list of the most popular playground equipment. The CPSC guidelines state that conventional fulcrum teeter-totters must have a maximum angle restriction of 25 degrees and that shock-absorbing materials such as partial automobile tyres or other materials should be utilized to soften impacts. The seesaw with the spring center is the safest option since it prevents heavy landings for one rider in the event that the other rider falls off.
Giant Stride
The CPSC does not advise using this piece of equipment, which hasn't been seen in almost fifty years.
A large pole that is anchored into the ground makes up the enormous stride. Kids can grab the ladder-like bars on the hanging ropes. The idea is that children hold on to the bars with all of their strength and run as quickly as they can, occasionally "flying" or hovering briefly above the ground while spinning. The huge stride not only makes it difficult to use, but it also frequently leads to children bumping into each other or the pole.
Monkey bar
Monkey bars are just a horizontal ladder that is raised above the ground by upright rods. They permit children to bounce up and swing from bar to bar in a manner akin to a chimpanzee. Larger jungle gyms frequently had monkey bars, which allowed kids to climb and swing in various directions.
The original design of monkey bars has been modified and tweaked in so many ways that you often need more precise terminology to describe it. While they are still popular and can be found at playgrounds all over the world, they are no longer merely a horizontal ladder. When someone refers to a "ring climber," they are referring to one of the several monkey bar modifications.
Still Rings
Playgrounds still contain rings that resemble those used in gymnastics and are hung from long chains. They frequently have shorter chains and are marketed as therapeutic hand rings. By sustaining their body weight while hanging from the rings, kids can work on their upper body strength.

Names of Contemporary Playground Equipment List in Parks
To enhance pleasure, safety, and accessibility, modern playgrounds frequently incorporate a variety of swings, slides, climbers, spring riders, and spinners. Coordination, strength, and critical thinking will all be enhanced by a variety of innovative playground apparatus (among other benefits).
When looking for new playground fixtures and playground equipment list, being familiar with the equipment's jargon will help you make a more informed decision about your selections. This list of playground equipment will help you understand each piece of equipment and how it fits into the overall design concept for your playground.
Swings
Although there are many different kinds of swings available, swings are still swings.
Typical playground swings have belt seats that flex when you sit down in them. However, some modern iterations of the traditional swing aim to both spice up the experience and make it more accessible to all riders:
Accelerator Swing
This is a communal swing that typically has a large disc for children to sit on. While it functions roughly the same as a standard swing, it is more interactive and can accommodate numerous children at once.
Generation Swing
A generation swing is ideal for playgrounds where many parents or grandparents bring their grandchildren. Although the motion is similar to a regular swing, this variation's seating surface combines an enclosed seat for children with an open seat large enough for an adult.
Viper swing
A huge in-line rope that can fit multiple people on it is part of this entertaining group swing. Users must cooperate and work together to achieve the proper motion because of the swing's design.
Inclusive swing seat
When a child isn't ready for the traditional belt or bucket swings, inclusive swing chairs offer a safe ride while also allowing children to improve their balance and coordination. The purpose of inclusive chairs is to accommodate children of all ages, sizes, and abilities.
The kind of seat you want for your swing is another factor to think about. Baby and toddler swing sets typically have bucket seats, whereas belt seats are more frequently found on A-frame or arch frame swing sets.
Slides
The only significant change in slides since the past is that plastic slides are now far more common than metal ones. Slides are among the most well-liked playground equipment due to the slight exhilaration children get as they rapidly descend toward the earth.
A slide is a good place to start creating a complete playground, even if there isn't much else around just yet. These are the primary characteristics you'll be describing while discussing about slides:
Open vs tube
Tube slides are completely enclosed, whereas open slides allow children—or especially lively adults—to feel the wind in their hair.
Straight vs Curved
A simple straight slide is entertaining on its own, but adding curve may elevate the experience. In addition to spirals that are measured by angle, curved slides also exist in L and S configurations. Children do one complete rotation on a 360-degree slide before their feet touch the ground.
Component vs free-standing
Slides can be acquired as extra parts for already-existing playthings or as a standalone feature with their own set of stairs. Tower slides are a common name for them.
Other entertaining variations include wavy slides, multiple entrance slides, and roller slides, which can add the excitement of racing to the mix.
Climbers on playgrounds
The climbing equipment on a playground is one of the most exciting features. Children are encouraged to use their growing muscles to ascend a structure by using climbers of different kinds of equipment. The geodesic climber, a dome-shaped toy consisting of numerous connected metal triangles, is a timeless design that many people recall from their childhood. The most adaptable playground equipment is the climber, which comes in a variety of themes and combinations, including:
Walker climbers
Rocks
Logs
Climbing noodles
Tensile Climbers
Ring Climbers
These are just a few examples of the various pieces of climbing apparatus available for children. Larger climbers with more challenging characteristics, including having to climb them vertically, are a given on playgrounds made for older children. Climbers that are shorter and inclined for simpler climbing while still aiding in muscle development are beneficial for younger children.
Springs Riders
The spring rider is one of the few things that capture the imagination. Most people can instantly recognize these because they have largely not changed. They are made up of a ground-mounted spring and a sitting element, which frequently has a humorous design. A child can ride a spring rider and then spring off to their own imaginative play world.
The depth that spring riders can bring to a playground with a theme is excellent. Children's imaginations can be captured in unique ways, whether it's a thrilling space voyage or an amazing deep-sea dive on the back of a sea creature.
Spinners
The idea of the merry-go-round has spawned a number of equally thrilling versions known collectively as spinners. As you may expect, the joy of fast rotating in situ defines spinner equipment. Spinning is not just for pleasure; it's also good for kids' development in many ways. It can improve their posture control, tactile sensitivity, and sense of balance.
Despite the fact that all spinners operate according to the same general concept, they all operate slightly differently. While some spinners are designed for one child, others may accommodate many children. You might encounter several spinner types of playground equipment, such as:
Spinner with a barrel ride
Spinner for a saddle seat
Spinner for maypoles
Rotor-blade tornado
Whirl Spinner
The inclusive whirl, which lies flush with the ground and allows people in wheelchairs and others to participate in the fun, is one of the most significant modifications to the traditional whirl.
On-Site Features
Planning a playground involves more than just the equipment that children will manipulate. The optimum value for users requires parks to provide more than simply play equipment because adults need somewhere to sit as well. On-site features include:
Benches
Garbage containers
Picnic tables
Grills
Bike stands
Border woods
Welcome signs
A playground must have a sufficient number of site amenities to appeal to all potential users. A playground may develop into a neighborhood gathering place with the correct amenities, where residents can come together for special occasions big and small.
Safety Terms
Naturally, every playground should have safety as its top priority. You might be left scratching your head and wondering what the height of a playground fall is. Or, what distinguishes the use zone from a playground safety zone? When it comes to the equipment's safety, the following playground words are the most crucial to keep in mind:
Entanglement: This occurs when a child's clothing or anything around their neck gets snagged on any piece of equipment.
Entrapment: This occurs when a child gets any body part stuck in equipment, like a railing, and is unable to remove the body part from the hole.
Fall height: This gauges the separation between a structure's tallest defined play area and the protected playground surfacing.
Safety zone and use zone: These are areas created for children to move about safely and use the equipment. They can frequently be used interchangeably.
Fall zone: The areas around play equipment where children are most likely to land if they fall off or exit the play item or structure.
Bring Life to Your Playground with CRS
A playground is a special place where kids can be kids. Playgrounds provide opportunities for interaction that simply don't occur anywhere else, in addition to the excellent effects exercise has on a child's development. Children must use their developing social skills to cooperate and have fun while working together on various types of equipment.
It's not always simple to construct your own playground, but the correct equipment can turn it into a place where kids can play and learn in equal measure. CRS is ready to help you if you have any queries regarding the construction or functionalities of the playground equipment list.
Any queries you may have about playground equipment may be answered by our skilled professionals, who can also give you a tailored price based on your needs. Use our rep locator to take action today to create your ideal playground.