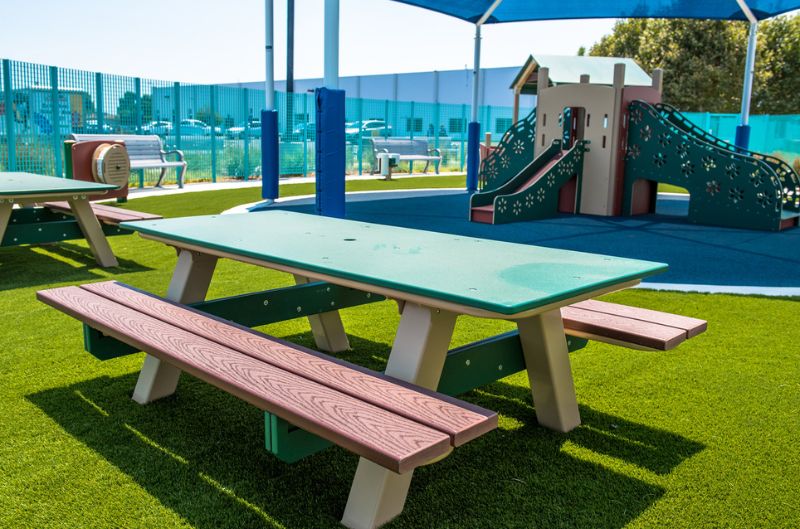 Benefits Of Creating An Outdoor Space With Picnic Tables For Employees
Author: Austin Stanfel
Adding a picnic table to your outdoor space has numerous advantages. When you add a picnic bench to an outdoor space such as a park or an office, you create a welcoming environment where your visitors can relax. It will encourage people to enjoy your recreational area and spend more time eating a meal at your site rather than leaving and possibly never returning.
Here are some of the benefits of adding picnic tables to an outdoor space:
Provides A Relaxed And Peaceful Atmosphere:
Employees can dine together at picnic tables, which encourages sociability. Employees may be inclined to take their lunch breaks in a hectic, stressful work atmosphere at their workstations. With picnic tables installed outside a workplace, People have an enticing outdoor atmosphere to turn to and meet up with coworkers.
Zones Of Comfort For Activities And Parties:
Picnic tables work well for parties. People can use these areas for birthday parties, baby showers, and other events. Outdoor tables are ideal for arts and crafts in schools, summer camps, senior centers, and more. You can also organize classes and team-building exercises at a group of tables.
Improves Creativity And Productivity In People:
Fresh air is helpful to workers of all types, if for no other reason than to provide a change from the same routine day after day. Even office workers fall under this category. Taking a short break from chores throughout the day can help an employee recharge and refocus on the task. Creating an outside environment is critical for keeping staff happy, fresh, and comfortable in all parts of their jobs. For many employees, a few moments of quiet meditation alone, the ability to chat with coworkers during lunch, or the opportunity to share non-work-related ideas can help break up the monotony of the work schedule.
Add Aesthetics To A Place:
Like other street furniture, Picnic tables will be exposed to the elements for many years. This is why you must invest in long-lasting, tricky picnic tables that will stand up to the test of time. Spending time outside provides productivity benefits. According to a study, spending 29 minutes in nature boosts employee productivity by 45 percent.
Conclusion:
Outdoor seating can be beneficial in a variety of situations. People visit parks and other outdoor public areas for a variety of reasons. Outdoor tables provide a location for picnicking in public parks, a space for children to eat outside at schools and child care facilities, office workers to relax and talk with their coworkers, and a place for the elderly to sit.
Colleges, homeowners' organizations, and apartment complexes will benefit from them. Anyone who wishes to get away from the stresses of everyday life can come here to clear their mind in the fresh air and natural surroundings. It's critical for your public space to meet the requirements of your community, regardless of their purpose for attending.