Koolfog | Home:
We specialize in enhancing outdoor environments making them more comfortable, functional and sensible using our high-pressure, pure-water fog technology.
Misting. Fog Effects. Outdoor Cooling. Custom Designs.
We innovate. For nearly two decades Koolfog has designed and engineered high-grade, quality misting systems, misting fans and high pressure fog systems for industrial, commercial and residential markets, theme park effects, agricultural, dairy, horse cooling, backyard patio and greenhouse applications.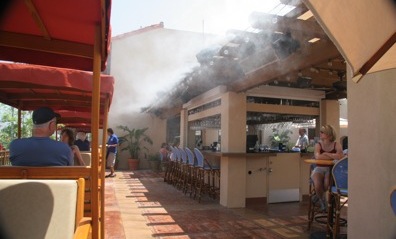 Our creative approach to design and engineering has helped Koolfog earn the reputation as the most innovative and technologically advanced supplier of outdoor misting systems and fan systems. Koolfog markets our products worldwide via direct sales and dealers.
Check our Gallery !!!

Call us TODAY!! - (877) PLAYSYSTEMS (752-9797)